The Use of Org Statistics

Per LRH Policy, every org must publish a magazine every month:

"Let us once and for all get the keynotes of this policy straight:

EVERY ORG PUTS OUT A MAGAZINE.

MAGAZINES GO OUT MAJOR ISSUE TO MEMBERS EVERY TWO MONTHS, MINOR ISSUE TO THE WHOLE CF [Central Files] LIST ON THE IN-BETWEEN MONTHS.

This means a magazine every month."

LRH ED 59 INT 14 December 1969
Magazines
(OEC Vol. 2, p. 215)



"Every Class IV Org puts out a magazine each month."

HCO P/L 11 February 1980, Issue III
Org Magazines: Policy and Format
(OEC Vol. 2, p. 228)


The purpose of these magazines is to forward the two Valuable Final Products of the org: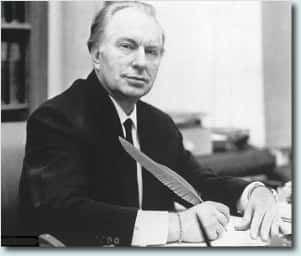 "THE EDITORIAL POLICY OF A MAJOR ISSUE IS 'KEEP PEOPLE GETTING TRAINED AND PROCESSED'."
HCO P/L 23 September 1964
Policies: Dissemination and Programs
(OEC Vol. 2, p. 197)

For this reason, LRH insisted that the products of training and processing — graduates and completions — be listed out in org magazines a minimum of every 2 months:

"Lists of org completions and graduates are put in the magazine. They should be as long and complete as possible. They usually go in the Major issue, but if there is room, can also go in Minors."

HCO P/L 1 February 1980, Issue III
Org Magazines: Policy and Format
(OEC Vol. 2, p. 228)

With this system, the public is always kept abreast of its org's production.
Unfortunately, this is no longer done.
Friends of LRH reviewed magazines from virtually every non-S.O. org in the U.S. and Canada over the past 3 years. The best ones reported their student and pc completions every 4 months or so, while the average was closer to 6 to 8 months. 11 orgs reported no stats at all.
Ideal Orgs, so named for their supposed adherence to LRH policy, fared no better, averaging a "Graduates and Completions" page about twice a year.
As a result, the only real way a modern Scientologist can track the status of training and processing completions on a regular basis is from speeches delivered by COB, and the stats extracted from those speeches and published in international Church magazines.
Unlike the format called for by the above LRH policies, however, these stats are very general, with no specific names given.
They have also proved to be uniformly false.
As an example, one Scientologist culled all the bar graphs for training displayed in Scientology News over an eight year period (1999 to 2007). He then added up each reported increase over the previous year (for example, "Auditors Made" in 2000 were double the number made in 1999; 2001 was almost triple the number from 2000; and so forth).
The result: Auditor training since 1999 is up 47 times, or 4600%.
Observation of any Academy anywhere in the U.S. or Canada shows this to be a myth.

Austin, Issue 382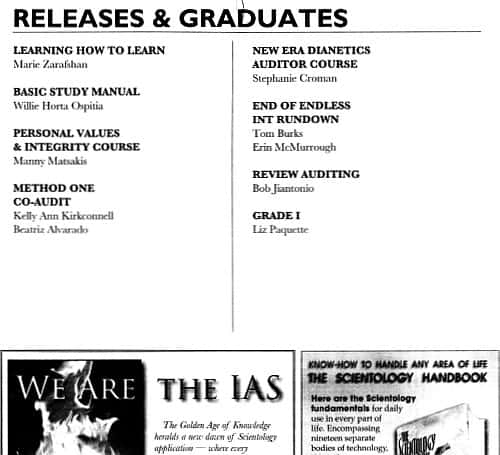 Valley (Southern California), Issue 382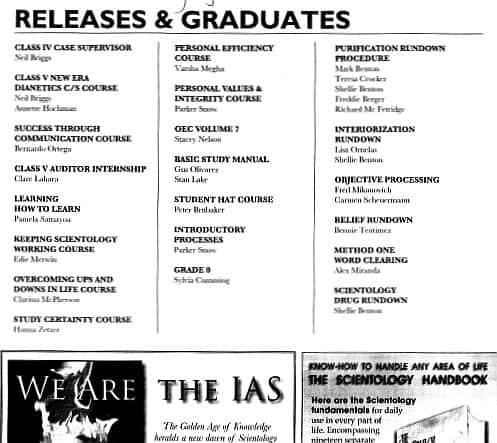 A comparison of then and now makes the point even more obvious:

St. Louis, July 1973 (2 months of completions)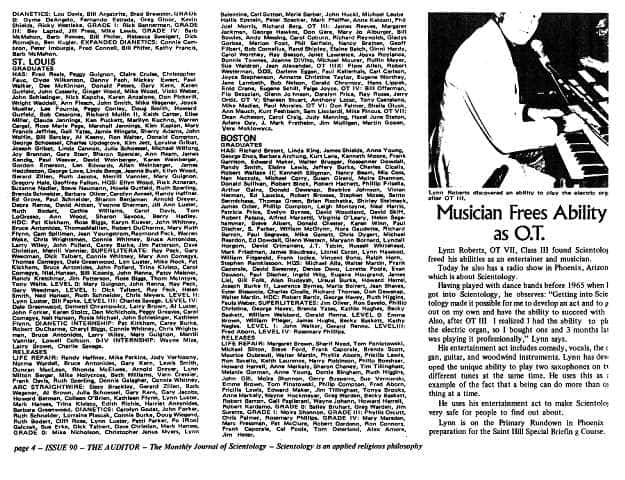 St. Louis, 2005 (4 months of completions)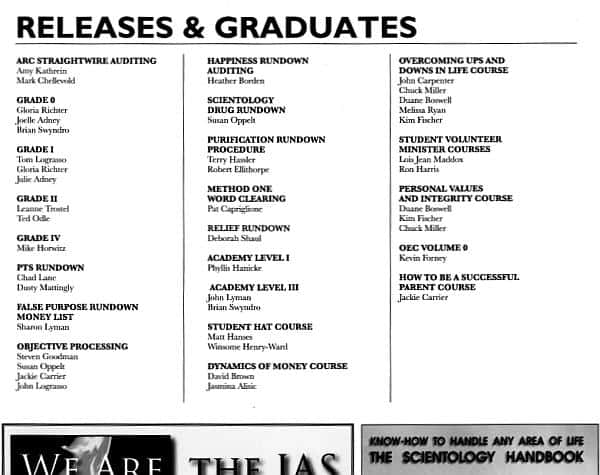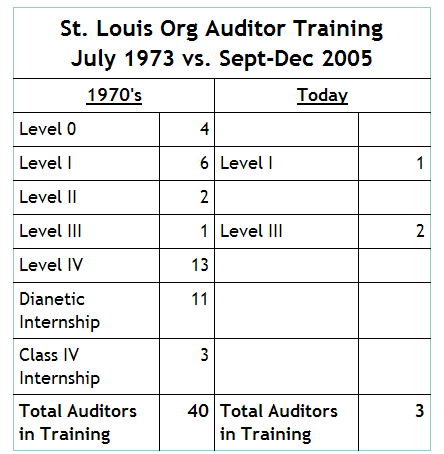 Equally important, the vast majority of stats touted by COB have nothing to do with training or processing.
Some examples, as reprinted in Scientology News issues #33 to 40, include the following:
People helped
Hours on OT projects
Ideal Org fundraising
Volunteer hours in building orgs
Population of cities with new groups
Number of cities aware of human rights
Shopping malls playing our human rights PSAs
Number of dirt particles removed during film restoration
Number of miles of distraction-free voyages
Number of terabytes of processing memory
Inches of press
Square feet of book cover cloth
Feet of lamination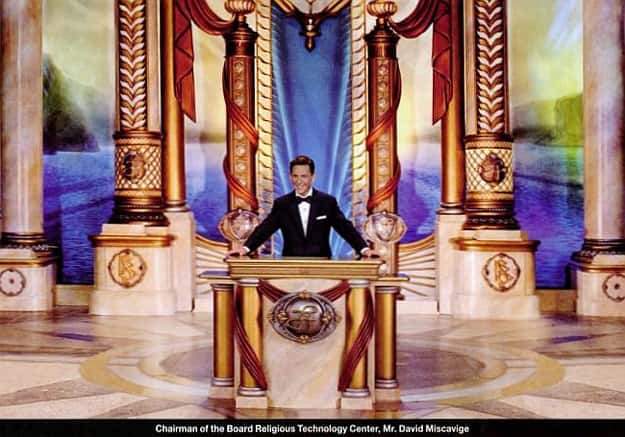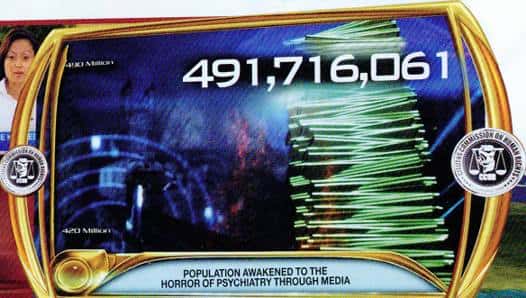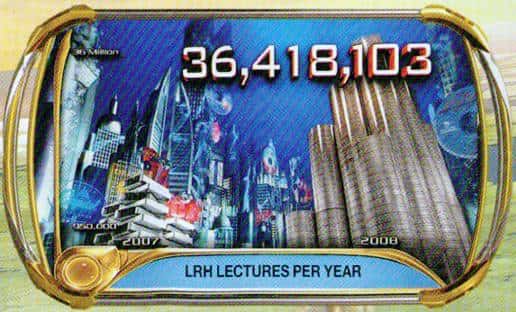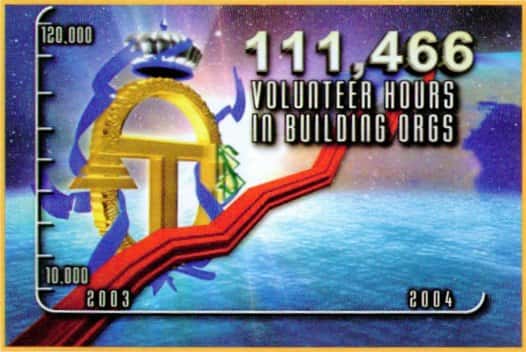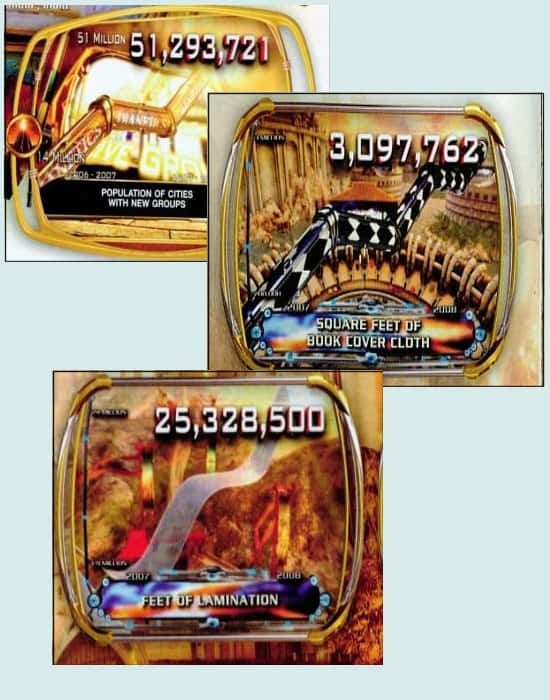 None of these statistics has any basis in LRH policy. They are simply made up.
If Scientology's actual statistics remain hidden, there is no way to remedy them: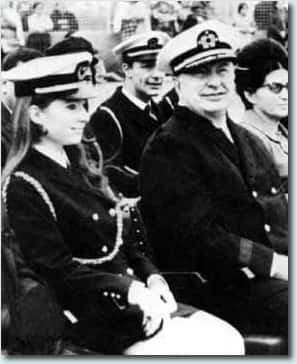 "It all begins with having a normal flow of information available and OBSERVING."

HCO P/L 15 May 1970, Issue II,
Data Series 5
Information Collection
(Management Series Vol. 1, p. 21)
"… OBSERVATION in general must be continuous for situations to be noted."

HCO P/L 17 February 1972 Data Series 23
Proper Format and Correct Action
(Management Series Vol. 1, p. 89)
"An evaluation first requires data."

HCO P/L 15 March 1977RA Data Series 41RA
Evaluation: The Situation
(Management Series Vol. 1, p. 154)
The first step in obtaining this data is knowledge of the actual stats:

"The first indicator is stats… Your first outpoint occurs in stats."

Tape: Current and Future Ops Action 18 May 1972
(also quoted under definition of "first indicator," Admin dictionary)

"… An observation like failing stats will lead one to the situation and then a closer look (also by outpoints) will lead one to the real why and permit fast handling."

HCO P/L 18 July 1974 Data Series 34
Situation Correction
(Management Series Vol. 1, p. 140)


This is why Friends of LRH makes available the "Releases and Graduates" section of various org magazines and compares them to those of earlier days. The more people become aware of the actual situation, the greater the likelihood that Scientologists as a group will do something about it.
Unfortunately, Mrs. Paquette's target of attack is not international stats which show an unprecedented crash in training, but solely the publishing of those stats.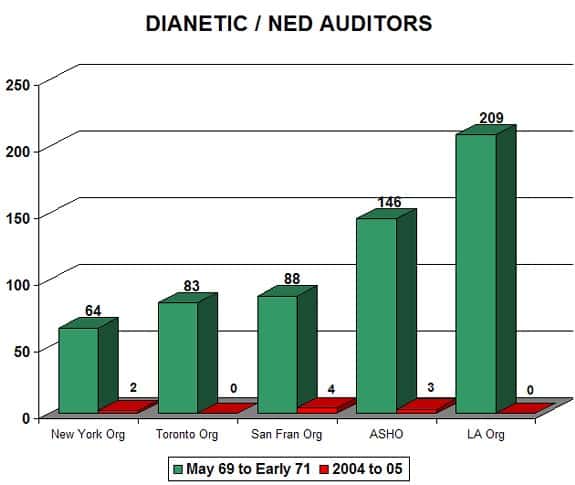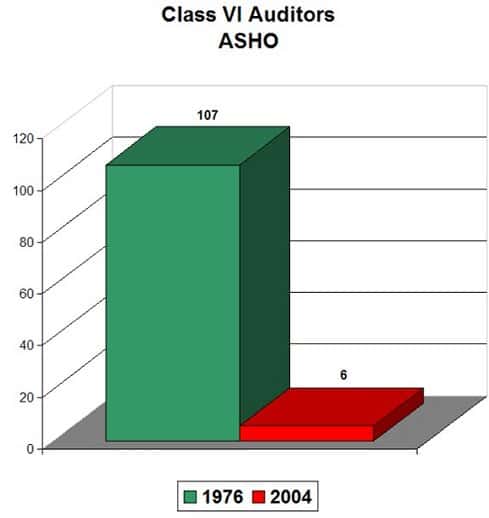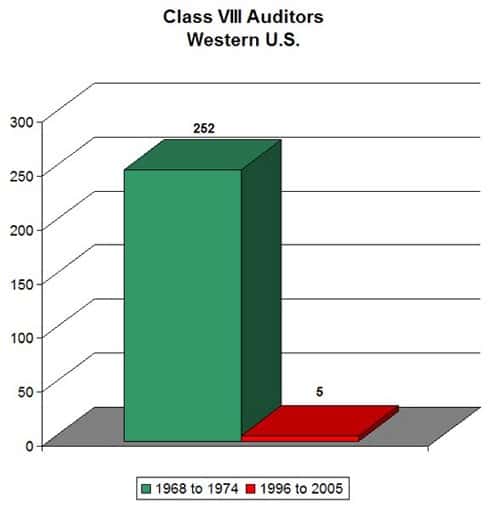 Mrs. Paquette or others may feel that cover-up and lies are necessary in this case in order to avoid out-PR (Public Relations) with the public.
If so, LRH would strongly disagree:

"Old PR practitioners… sought to startle or intrigue and the easiest way to do it was with exclamation point 'facts' which were in fact lies.

… Thus PR is corrupted to 'a technique of lying convincingly'.

It makes a cynical world. It has smashed idealism, patriotism and morality.

… Thus the law:

NEVER USE LIES IN PR.

… This world is full of the 'noise' of many lies, many babbles, many old fixations and hates.

But truth has comm value. All the lies will dead-end someday."

HCO P/L 13 August 1970, Issue II PR Series 2,
The Missing Ingredient
(Management Series Vol. 3, p. 7)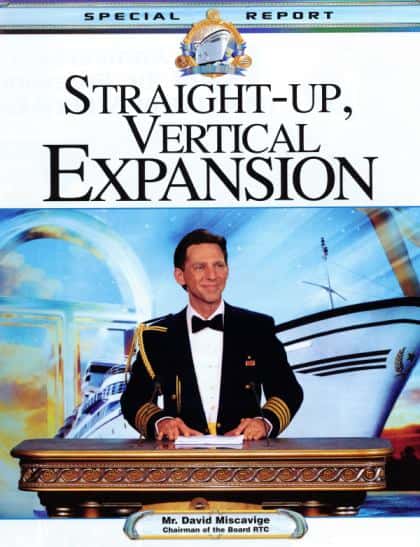 "Occasionally you'll find a scene wherein a person's or area's PR is greater to him than production — PR, personal PR, means more than production. And that is a characteristic of a suppressive.
He'll fog the situation up with big PR about how good it is so it can't be handled."
HCOPL 15 March 1977RA
Data Ser. 41RA, Evaluation, The Situation
(Management Ser. 1, p. 154)
Or Mrs. Paquette and her seniors may simply feel that it is the Church's hat to handle, not theirs.
Again, LRH holds to quite a different point of view: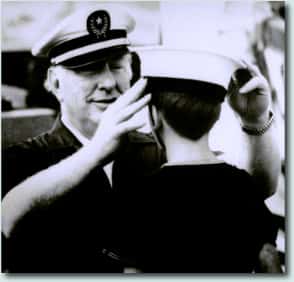 "To live at all, one has to exert some control over his equals as well as his juniors and (believe it or not) his superiors.
When misconduct and out-ethics is occurring in a group, it is almost impossible for other members of the group not to know of it.
… The single most notable difference between an upstat, easy-to-live-and-work-with group and a downstat, hard-to-live-and-work-with group is that the individual group members themselves enforce the action and mores of the group."
HCO P/L 22 July 1982
Knowledge Reports
(OEC Vol. 0, p. 555)


"RESPONSIBILITY: THE NONRECOGNITION AND DENIAL OF THE RIGHT OF INTERVENTION BETWEEN ONESELF AND ANY BEING, IDEA, MATTER, ENERGY, SPACE, TIME OR FORM, AND THE ASSUMPTION OF FULL RIGHT OF DETERMINATION OVER IT."

HCOB 2 May 1985
Responsibility, Definition of
(Tech Vol. XIII, p. 16)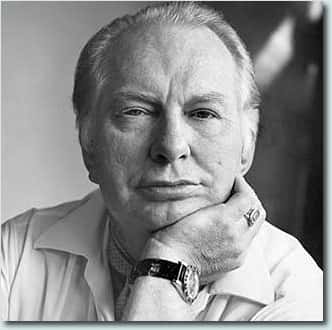 "Responsibility is the ability and willingness to assume the status of full source and cause for all efforts and counter-efforts on all dynamics.
There is no compromise with full responsibility… It means responsibility for all acts, all emotions on every dynamic and in every sphere as one's own."
Advanced Procedure and Axioms
Chapter: "Responsibility"